The Church was founded as a Particular and Calvinistic Baptist Church in 1652, although, it would seem, the Baptists had been worshipping together for some years before this in the vicinity of Luppitt and Upottery.

"Nicholas Clode of Moonhayes"
Their first Church building, Sunday School, Manse and burial ground were sited on an acre of land sold to them for five shillings by Nicholas Clode of Moonhayes.
He died in 1698 and his tomb is one of the oldest in the graveyard.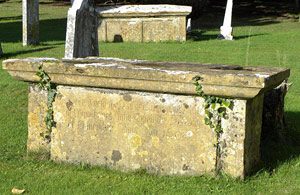 The 'Five Mile Act'
In the 17th century there were periods when Christians who wanted to worship freely and simply according to the guidelines they found in the Bible (nonconformists) experienced severe persecution by the civil and ecclesiastical authorities.
This explains why they built their place of worship in this out-of-the-way location, for here they were on the border of three counties (Somerset, Devon and – at that time – Dorset), and of five parishes. So, whenever there was a risk of the gathered worshippers being arrested, their lookout gave warning and they escaped over the border.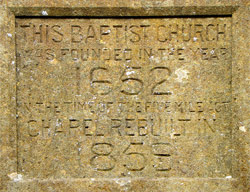 Plaque text:
'THIS BAPTIST CHURCH
WAS FOUNDED IN THE YEAR
1652
IN THE TIME OF THE FIVE MILE ACT
CHAPEL REBUILT IN
1859'
In the early days believers travelled considerable distances to meet here. Some, of course, lived nearby, but others came from as far as Tiverton, Wellington and Taunton, many of whom travelled on foot.
The present building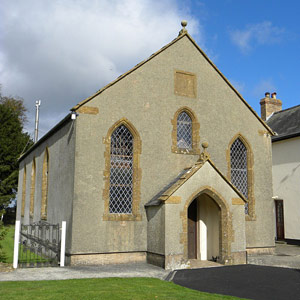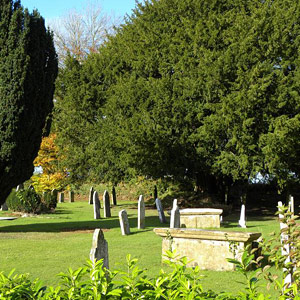 The present building was erected in 1859. The Schoolroom and the Manse were added in 1912.